The latest version 4.4.6 of our digital signage & kiosk software FrontFace offers lots of improvements as well as a very special, new function that has repeatedly been requested by our customers: Multi-user support!
Although multiple users have previously been able to edit a FrontFace project from different PCs if the project was stored in a jointly accessible storage location (e.g. a network drive), in this scenario all users had the same, full access rights to the project.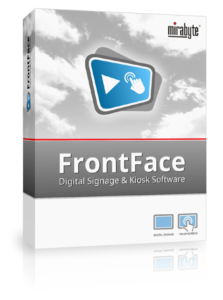 With the new (optional) multi-user support, several user accounts can now be created in a FrontFace project, and users can then be granted different access rights to the various areas of a project (e.g. Players, Content, Scheduling, Publication, etc.). In this way, on the one hand, an authorization structure can be mapped and, on the other hand, the complexity of the user interface of the FrontFace Assistant can be radically reduced so that a user is only shown the allowed areas and functions.
When opening a project, the user has to log in with a user name and password and is then given the configured scope of access. In addition to normal users, one or more administrator accounts can be created, which have full access to the project and at the same time also allow the administration of the user accounts.
However, the new multi-user feature is not mandatory in a FrontFace project. As before, in the default case, the project is opened normally using the FrontFace Assistant and no user account is required for logging in. In the case of new projects, the multi-user support can be activated when creating the project, if necessary. For existing projects in which the multi-user support is not yet active, it can be activated at any time in the settings dialog. In addition to that, the function can also be disabled again.
Here is an overview of the most important new features and changes in version 4.4.6:
NEW: Optional multi-user mode for projects with dedicated rights assignment for individual users and password protection.
NEW: Paging function (e.g. page 1/x) for text elements (such as "title") in toolbars when displaying multi-page content as well as support for placeholders.
NEW: Optional hiding of areas (left, center, right) in toolbars for even more design freedom.
NEW: Text editor and dialog for editing formatted text for text media objects has been improved and is now more intuitive in terms of line breaks and font sizes.
NEW: Improved copy & paste of formatted text in the text media object dialog.
NEW: Printing directly from web pages (via JavaScript) is now possible when the Sharing feature is enabled.
NEW: Installation file of the Android version can now be downloaded on demand and is no longer a fixed part of the regular installation package.
NEW: New section on "Automatic startup and shutdown of player PCs" in the user manual.
FIX: Improvements regarding displaying text media objects on Android devices.
FIX: Fixed a problem with the "Launch Explorer Shell" feature when exiting the Player App as a shell replacement.
FIX: Numerous minor improvements and fixes.
A free trial version is available for download for prospects. Customers who are entitled to obtain Updates & Support can download the latest version free of charge from the "Customer Account" area on the mirabyte website.