The new version 4.0 of our Digital Signage & Kiosk software FrontFace is an entirely new development from ground up and brings countless improvements and innovations over our previous products "FrontFace for Public Displays" (digital signage software) and "FrontFace for Touch Kiosks" (kiosk software).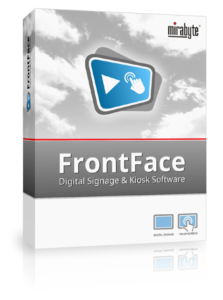 However, the most significant change is that both the primarily non-interactive features of FrontFace for Public Displays and, soon, the interactive touch-menu capabilities of FrontFace for Touch Kiosks will be available in one single product: FrontFace 4.
Thus, both classic digital signage applications, and interactive kiosk systems, as well as mixed types of both, can be implemented with a single, powerful system!
In the first step, we implemented the functionality of FrontFace for Public Displays in the new FrontFace 4. In addition to that, we have significantly expanded and improved the entire product. In a second step (around late summer 2019), the touch functionality will be available in FrontFace 4 as well as part of an update.
By the way: FrontFace for Public Displays and FrontFace for Touch Kiosks will not be discontinued but will continue to be available to our existing customers. So you have the choice of whether you want to continue to work with the product you are used to, or whether you want to switch over to the new FrontFace 4. The upgrade is free of charge for all customers that are eligible for updates & support! For existing customers, we have also created a FAQ with all the questions and answers dealing with the new version!
Download the free trial version of FrontFace 4 and find out how easy and simple it is to get professional digital signage applications up and running. Create your own playlist with just a few clicks! But despite the simple and intuitive usage, also more demanding users get their money's worth: With the new layout editor you can visually create without any programming knowledge, your own screen layouts very easily. In addition, the powerful scheduling provides everything you need to have your content displayed automatically.
Thanks to the integrated plugin interface, you can even extend FrontFace with your own, custom functionality if required!
And as always with FrontFace: No SaaS (software-as-a-service), no running costs or subscriptions and the installation of the complete software is done locally in your environment! You have full control!