Digital signage, used to display information and/or advertising, is everywhere! Not only in shopping malls and large corporations, but also in small and medium sized businesses in the retail, service and hospitality industries, where digital signage offers many advantages, such as digital storefront advertising.
Software? Which software?
While cost, screen size and design are often the only factors considered when choosing the right hardware, software is often ignored. As soon as the screen is mounted, thoughts quickly turn to Microsoft PowerPoint or the free presentation software Impress from LibreOffice, which offers a similar range of functions. Anyone who has ever created an attractive presentation with one of these programs knows that it is not only very easy to combine text, images and graphic elements, but also to create cross-fade effects and stylish animations.
Ready, set, F5!
So, once the presentation is created, what happens next? – Very simple: open PowerPoint, load the presentation and press F5!
…but then it starts: the presentation stays on the first page. Of course, with a digital signage screen, no one is standing next to it and pressing a button to continue with the slides. Fortunately, there is a way in PowerPoint to set the display time for each slide and enable automatic paging. And, of course, don't forget to set the presentation to "infinite loop," otherwise it will end after the last slide and a black screen will appear.
The same thing every day, Part 1: Automation is mandatory!
Shutting down the PC manually at the end of the day… you can do it, but you will probably forget it sometimes and turn on the PC every day, log on to Windows, start PowerPoint, load the presentation, and launch it with F5 – this is not a viable solution in the long run. With a little manual work and expertise, these steps can be automated, but it is still inconvenient.
Pro Tip: Configuring a PC for continuous operation as a digital signage system is easy with the free FrontFace Lockdown Tool. This handy little program not only lets you automate the timed startup and shutdown of your PC, but also lets you configure other tasks like automatically logging into Windows, starting a program like PowerPoint, or disabling the screen saver and automatic screen going black after some idle time with a single click.
The same thing every day, Part 2: Updating content is a must!
Even though it is possible to automate the playback of the PowerPoint presentation with some effort, the frustration returns when it comes to updating the content: The presentation must first be updated on another PC, then transferred to the playback PC via USB stick or network, and then manually updated and started using mouse and keyboard. If the screen is located in a public area, interested passers-by can also follow this process live. Of course, this doesn't look professional at all!
Lively content generates more interest!
In many cases, simply displaying text and pictures is too boring. You can even embed video into PowerPoint slides, but when it comes to current content from the Internet, such as news, weather, or Web sites, Microsoft's presentation software quickly reaches its limits.
So, if you want more variety or need to integrate current content from the Web, classic presentation software won't work.
What alternatives are there?
For this reason, there are special solutions: One of them is FrontFace from mirabyte. With FrontFace you can create, control, update and play professional digital signage screen presentations. In addition to a distributed architecture (the software consists of a player application for content playback and the FrontFace Assistant for content creation and control), FrontFace offers the possibility to integrate a wide variety of content types. Whether videos, streams, images, slideshows, text, PDF files or websites – with FrontFace any type of media can be easily combined into attractive playlists. Thanks to the integrated Print2Screen function, content can even be imported from any Windows application that has a print function. Content can be created with popular applications such as Word and then transferred directly to the screen presentation. By the way: PowerPoint presentations can also be integrated this way (or as video)!
If you want to drive a nail into a wall, you should use a hammer, not a drill – in other words, there is a perfect tool for every application! While PowerPoint or LibreOffice Impress are a great choice for classic presentations, it quickly becomes apparent that these programs are rather unsuitable for digital signage applications.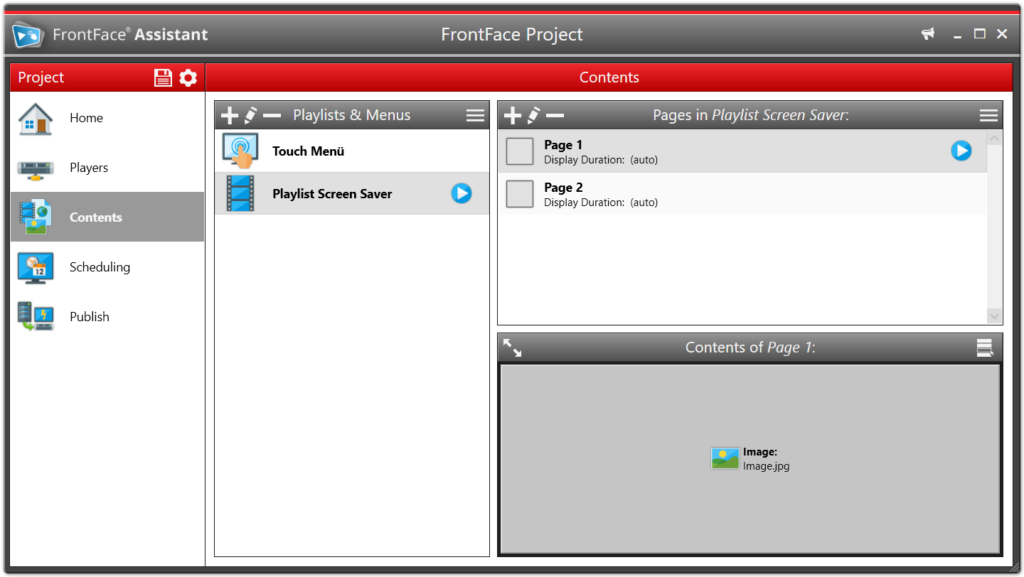 But FrontFace offers even more: With the integrated time control, content can be displayed time-controlled. Content can be displayed throughout the day (e.g. the cafeteria menu at noon), by day of the week, or on specific dates (e.g. for events).
FrontFace is also very flexible when it comes to updating content. There are several publishing methods that can be used to update the content on a screen: In addition to publishing via the local network, updates are also available via the cloud, web server or even offline via USB thumb drive.
FrontFace's greatest strength, however, lies in the software's intuitive operation and comprehensive feature set, which covers a wide range of requirements. Getting started with FrontFace is very easy even for non-IT-savvy users. However, even complex applications can be easily implemented with FrontFace. In addition to a free, fully functional trial version, short video tutorials and an English manual are available to help you get started.