Everyone knows those handy sticky notes! And now, there is also a digital counterpart of it for the FrontFace Digital Signage & Kiosk software.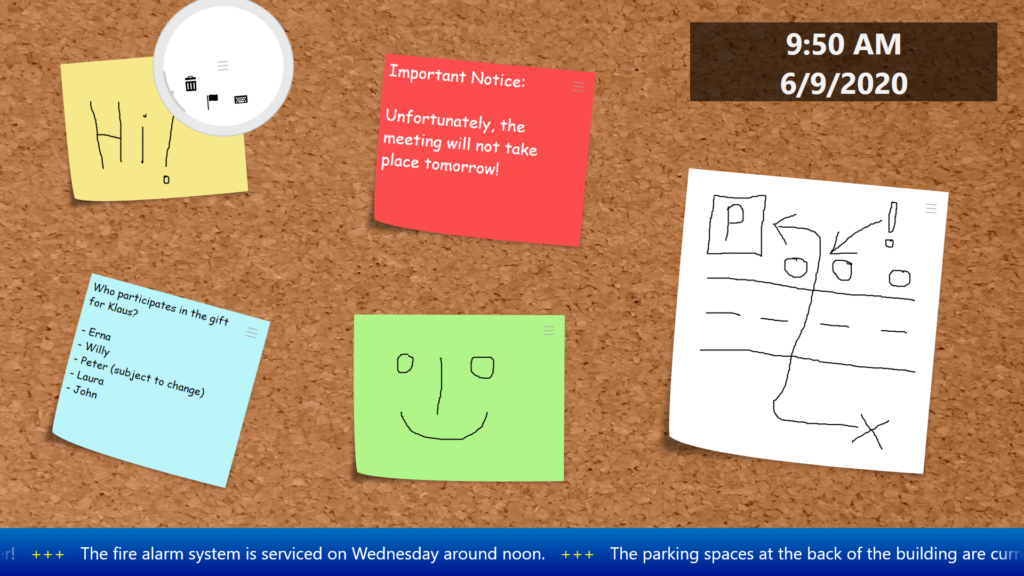 With the Sticky Note plug-in, classic sticky notes can be easily integrated as media objects in playlist pages and touch menus.
There are many possible uses for this: On non-interactive systems, digital black boards can be made even more realistic and text messages can be presented in an appealing way.
On the other hand, the full functionality of the new plug-in can be used on touch screen systems. You can use the on-screen keyboard to write or edit texts on the sticky note. In pen/ink mode, you can also draw on the sheet freehand with your fingers or a pen. An integrated context menu allows the content to be deleted with a single click or to toggle the "highlight" mode.
Thus, the plug-in is not only suitable for the visually appealing design of digital bulletin boards but can also be used in interactive mode as a "mini-collaboration tool", where e.g. employees can leave messages or notes for colleagues.
The new plug-in is free of charge and is included in the FrontFace installation package. Existing customers who update to version 4.3.6 will find the plugin directly if they click on "Add New Content Plugin" in the plug-in dialog.